Bloomberg Trading Challenge 2022
Congratulations to the QUMMIF Team "QTraders" of the School of Economics and Finance for being ranked 64th over the world – against 960 Teams – and 1st in Queen Mary University of London, in the Bloomberg Trading Challenge. The QTraders members are the PG Students: Rukiye Duru Tozoglu; Pushkar Shripad Akolkar; Karina Isidro Castillo; Shivam Narendra Joshi; Yuksel Burak Baykara.
---
ICE Employability Talk, at 6pm December 8th, 2022
Peston Lecture Theatre
IDuring the event, one of the Leading Clearing House, ICE Clear Europe, will discuss the company profile, the profiles of candidates they are looking for and the positions currently open for applications.
ICE Clear Europe operates separate Product Risk Committees for Credit Default Swaps (CDS) and Futures and Options (F&O) products. For information, please see the website Risk Management | ICE (theice.com)
Date: 8 December 2022
Location: Peston LT, Ground Floor, Graduate Centre, Queen Mary University of London
Time: 6pm – 8pm
Event Agenda:
6.00-6.10pm:
QUMMIF Director (Dr. Alfonsina Iona) : Introducing ICE's guest speakers
Viet Nguyen – Head of Risk Strategy
David Teagle – Risk Director
Fabio Calonaci – Risk Analyst
Samy Hocini – Risk Manager
Daniel Sanchez Barrilero – Senior Risk Analyst
Joanne Mann – Senior Talent Acquisition Manager
6:10- 6:50 pm:
ICE Employability Talk
6:50 – 7:00PM:
Students' questions and Thanks
7:00-8:00pm:
Refreshment – Ground Floor of Graduate Centre
---
20th June 2022- QUMMIF Students' Investment Competition
It was a great pleasure to host the QUMMIF 2022 Students' Investment Competition on Monday 20th June, along with and a Panel of Judges made by Finance academics and Finance professionals coming from different countries over the world.
The Panel of Judges made the final decisions on the best 10 stocks to invest the QUMMIF fund's capital in. Many Congratulations to all our QUMMIF students for their effort, dedication and commitment within the QUMMIF training trading experience.
---
The QUMMIF Stocks 2022 selected and Top 3 Winners of the Competition
1. AIR LIQUIDE (ESG)
2. SYLVANIA PLATINUM
3. Imperial Brands (ESG)
4. VOLKSWAGEN AG
4. Novartis
5. KINGFISHER
6. SHELL
7. Legal & General
7. GOOD ENERGY
8. LSEG
8. GAMES WORKSHOP GROUP
9. ASTRA ZENECA
10. HSBC
GALLERY
---
17th June 2021 – QUMMIF Investment Competition Winners
Kering Equity Team (Presentation)
Croda Equity Team (Presentation)
H&T Equity Team (Presentation)
Top Ten Stocks for QUMMIF portfolio
Kering
Croda
H&T
Astra-Zeneca
Unilever
Aveva
THG – Hut Group
Airbub
Segro
Tesco
---
Live Trader: Live Trading Market Competition
On Friday 6th December 2019 we held our first ever live trader competition! Our MSc students had the opportunity to access a world-class trading platform and operate as hedge fund traders for the day. The session was led by experienced industry expert William who gave the students training and guidance.
"It was great to trade the major US data release with students from QMUL.
Nicholas Paduano- MSc Finance, stood out as the best performer for a consistent interest rate expectation strategy; going short Gold, US T-Notes and the EUR/USD. Most impressive was how he maintained his discipline and avoided overtrading in the volatility."- William de Lucy
Congratulations to all students who took part and thank you to Will and his team for putting on such a fantastic event
---
6th December – Live Market Trading Competition
---
2nd April 2019 – QUMMIF Investment Competition Winners
Novartis Equity Team
Iberdrola Equity Team
Orsted Equity Team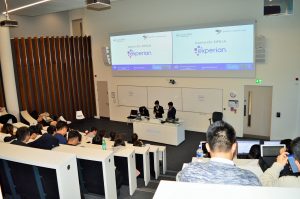 ---
2nd April 2019 – QUMMIF Students Investment Competition 2019
The Students' Investment Competition was a fantastic event. We had 10 judges from the City, 22 groups of students presenting their investment proposals and an excellent attendance. Congratulations to all the students who took part and thank you to the judges.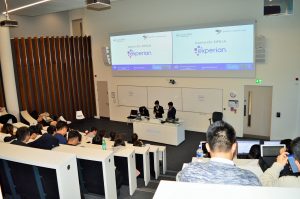 ---
30th January 2018 – QUMMIF Students Investment Competition – Term 1
QUMMIF Winners Term 1
1. Team Microsoft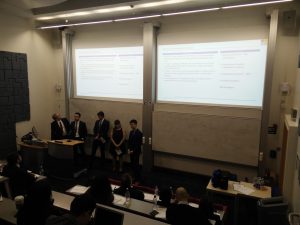 2. Team Facebook
3. Team Vestas Wind Systems
---
19th June 2017 – QUMMIF Award and Dinner
Queen Mary Master Investment Fund and School of Economics and Finance is proud to present an exclusive evening of awards to congratulate students for their achievement towards the QUMMIF success.
---
31th March 2017 – QUMMIF Students Investment Competition
QUMMIF Winners Term 1
Intel Corp. (INTC)
Electronic Arts Inc. (EA)
Commodity: Natural Gas
QUMMIF Winners Term 2
Alibaba Group Holding Ltd. (BABA)
Facebook Inc. (FB)
Apple Inc. (AAPL US)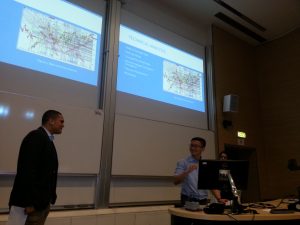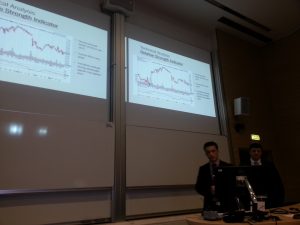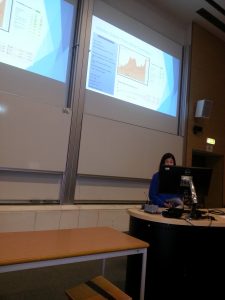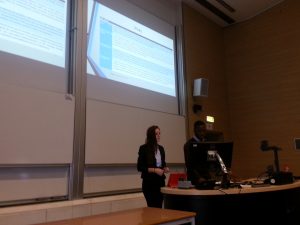 ---
December 2016 – Our first social event

There will be an opening meeting in Flamingo Bar area of Roof's Garden between 8pm and 10pm with complimentary entrance and one free arrival cocktail. Guests would receive a complimentary cocktail before 8.30pm and this would be free, and then the bar would be open for guests to buy individual drinks after.Then from 10pm the members and the guests would be able to stay on and enjoy the club night. It is compulsory to have your full name for the guest list.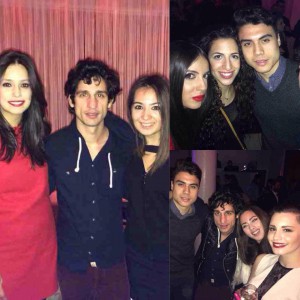 ---
February 2016 – Bloomberg London Office Tour

Bloomberg is the leader in global business and financial information, enabling customers to make smarter, faster, more informed business decisions.
---
March 2015 – QUMMIF Investment Report Pitch Presentation Evening (March 2015)

We are enjoyed to welcome you on our QUMMIF investment report pitch presentation evening.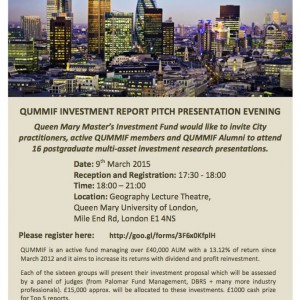 ---